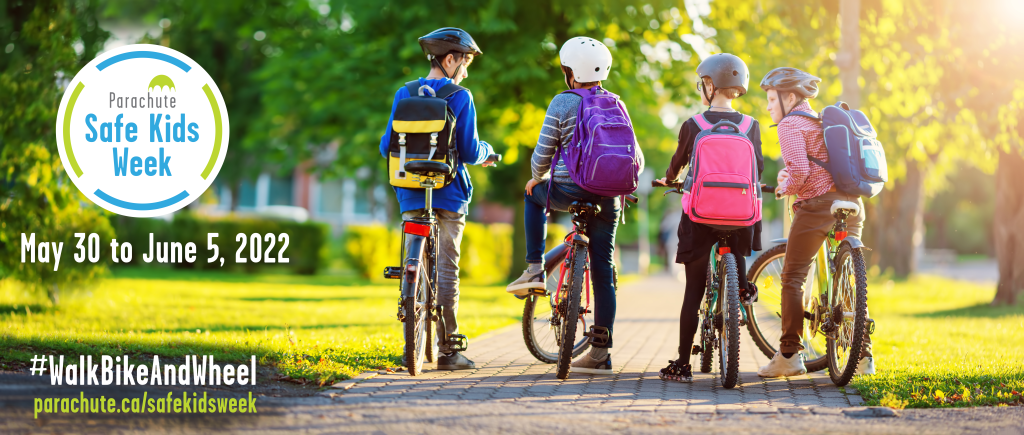 Parachute Safe Kids Week is May 30 to June 5, 2022, with the theme of safe and active transportation.
Safe Kids Week is an annual campaign to raise public awareness of child safety issues in Canada, encouraging community involvement as part of the solution.  The topic of 2022's Safe Kids Week digital campaign is safe and active transportation for children under the theme #WalkBikeAndWheel.
Why active transportation is important for kids
With fewer than five per cent of children and fewer than one per cent of youth meeting movement behaviour guidelines during COVID-19 restrictions, creating opportunities for kids to move, such as through active transportation, is more important than ever. Parachute's vision is to make the roads safer so that every kid can walk, cycle, or wheel to encourage mental, physical, social and emotional wellbeing.
This year's Safe Kids Week theme encourages children and families to stay active and keep themselves and their loved ones safe on their travels to and from school to the bus stop and around their community.
Keeping our roads safe is a shared responsibility. We also encourage drivers, communities, municipalities, and other levels of government to support children and their families in creating environments that can help them engage in active and safe transportation.
How to participate in Safe Kids Week
You can participate virtually by sharing important #WalkBikeAndWheel messaging to promote safe and active transportation at your school or in your community: we've prepared key messages, a backgrounder and a social media guide for your use, available below.
Anything But a Car Day
Create this in-person event in your community! Encourage kids in your community to get to school on a day during Safe Kids Week (May 30 to June 5) using "Anything But a Car" to get there. Check out our event guide for details on how to set up this event to be fun and educational for your school community.
---