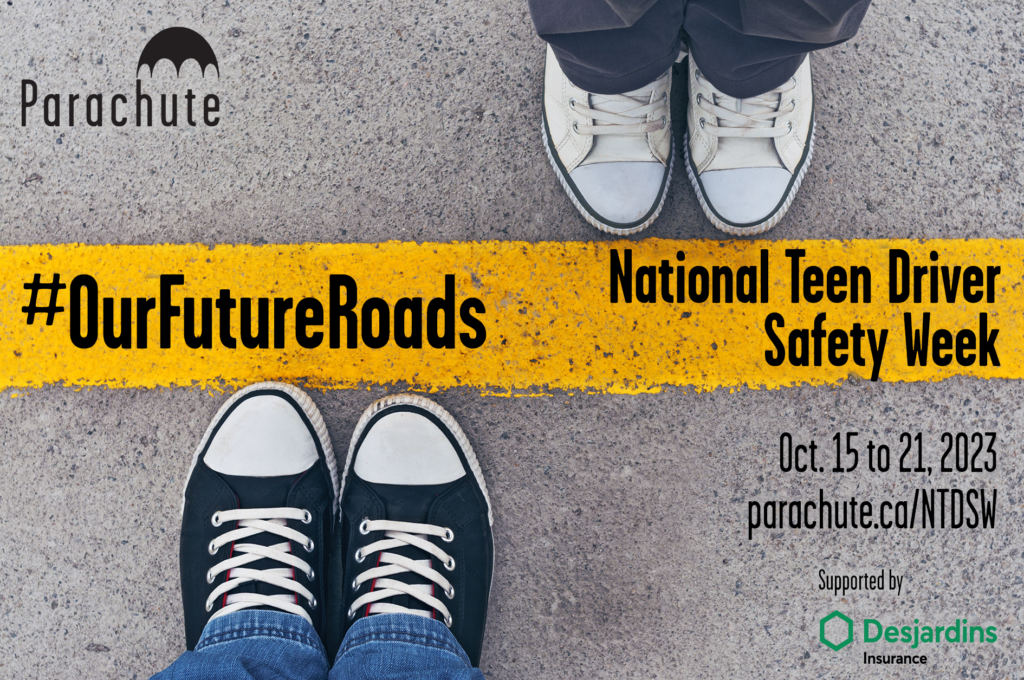 As Canada's national injury prevention organization, Parachute is proud to present the eleventh annual National Teen Driver Safety Week (NTDSW) from October 15 to 21, 2023, an awareness week designed to build public awareness of teen driver safety issues and encourage communities to be part of the solution. This year's NTDSW will focus on youth as changemakers, to highlight and support young Canadians' role in improving road safety.
As part of NTDSW this year, Parachute has launched the Youth Road Safety Grant Program. It will enable youth to take the lead on road safety education and advocacy by funding local, engaging, youth-initiated, youth-led projects that educate young people and community members on pressing road safety issues and safe driving behaviour or advocate for proven measures in their communities.
Our messages and resources allow stakeholders and partners to understand and prioritize teen driver safety issues in their communities, engage people in the conversation about teen driver safety and encourage young people to spearhead solutions that will improve road safety for all.
Why are youth at greater risk of road crashes?
Youth and young adults are killed in road crashes at a higher rate than any other age group under 75 years old. With road crashes being the third-leading cause of death among people aged 15 to 24 years old, this age demographic has the highest rate of involvement in fatal collisions per 100,000 licensed drivers. Here are some reasons that youth are at greater risk of road crashes:
Peers can encourage unsafe driving behaviours, such as speeding or impaired driving.
The brain is not fully developed until the age of 25 and an underdeveloped brain can lead to poor judgement, organization, decision-making and more impulsive actions, all of which play a role in risky driving behaviour.
Young drivers are more likely than middle-aged drivers to drive while distracted due to inexperience, maturity level and overestimating their ability to multitask.
Young people may have limited driving experience, meaning that they may not understand road rules, are not able to safely handle dangerous driving situations and have less ability to control the vehicle.
Youth engagement in road safety
By engaging in road safety, young people can further develop skills such as leadership and decision-making, as well as learn how to positively impact their communities. Here are some ways to engage young people in road safety issues:
Encourage youth to participate in decision-making to make the shift from labelling young people as victims or troublemakers to advocates and stakeholders who create change in their communities.
Provide young people with road safety information and programming in engaging, enjoyable and accessible ways.
Focus on providing strategies that eliminate risk and harm of alcohol, cannabis or other drugs while on the road, rather than promoting an abstinence-only model to youth.
Consider equity, diversity, inclusion and accessibility in your road safety messaging and programming to ensure that diverse needs are being met.
Youth advocacy in road safety
When youth advocate for young driver safety, it shifts the culture around driving behaviour, proving that being a responsible driver, and advocating for others to do so, can be empowering. Youth advocacy in road safety leads to healthier and safer youth, opportunities to develop their skills, and contribute positively to their communities, creating safer roads for all. Some road safety concerns that young people have, and can advocate for, include:
Infrastructure changes in their communities, such as installing speed bumps, bicycle lanes, or addition of a crossing guard to a school zone.
Improved public and active transportation options, such as expanding public transit networks and installing e-bike and e-scooter stations.
Improved law enforcement presence and surveillance.
Greater and more equitable driver education access.
There are many ways for young people to get involved in advocating for safer roads:
Lead their own advocacy campaign, such as letter writing, collaborating with local representatives, and encouraging their peers to learn more about road safety.
Spread road safety information through social media, attending and organizing youth-led safety events and town halls, and talking with their peers.
Share with organizations and decision-makers how they would like to improve road safety in their communities, resources that young people need to create safer roads and how they would like to receive road safety information.
Young driver safety and Vision Zero
Vision Zero is the philosophy that road fatalities and serious injuries are unacceptable and can and should be eliminated while providing safe, healthy and equitable mobility for all road users. As we shift the conversation and begin to recognize youth as powerful stakeholders in road safety, youth are encouraged to advocate for Vision Zero and Safe Systems Approaches to create safer roads for them, their families and communities. To learn more about Vision Zero, visit: parachute.ca/visionzero