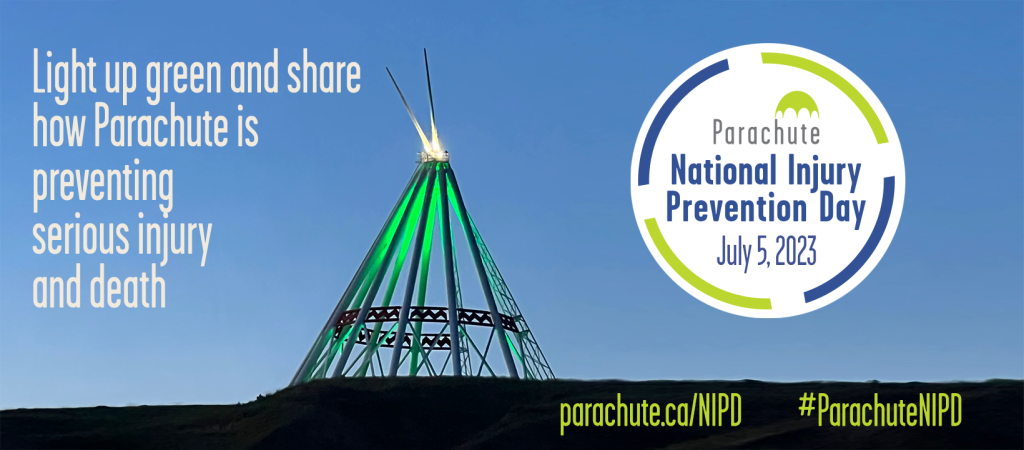 On Wednesday, July 5, 2023, Parachute celebrated the seventh National Injury Prevention Day in Canada to raise awareness about the devastating effects of predictable and preventable injuries. Our goal: to educate others and help all Canadians live long lives to the fullest.
Parachute's National Injury Prevention Day (NIPD) is a day to raise awareness around the importance of injury prevention and aid Canadians to live long lives to the fullest through education and advocacy. Health Canada recognizes this date as an official national Health Promotion Day.
Injury prevention is critical to saving lives: Did you know that injury is the No. 1 cause of death of Canadians ages 1 to 44? Or that injury costs the Canadian economy $29.4 billion a year?
We know that most injuries are predictable and preventable: We need your help spreading our information on preventing serious injuries on the road, at home and at play.
Our goal is to provide the necessary information and tools to the public, and to work diligently to ensure that one day Canada will be free of serious injuries.
Quick facts
Every day, 48 Canadians die and 634 are hospitalized because of injuries.
Preventable injury kills more Canadian children than any disease, and more youth than all other causes combined.
75 per cent of injury-related deaths are from unintentional causes, such as falls, car crashes and poisonings.
Falls are the leading cause of injury deaths, hospitalizations, emergency department visits and disabilities in Canada.
We have made improvements in the area of injury prevention, but there's still more work to do.
Impact of 2023's National Injury Prevention Day
Media coverage and social media sharing of NIPD information garnered 15.2 million impressions in 2023: news outlets in Ontario, Alberta and B.C. published stories about injury-prevention initiatives in those provinces and more than 350 organizations across the country created or shared information about injury prevention.

As well, UPS Canada sponsored Parachute's President and CEO, Pamela Fuselli, to speak to its fleet staff about injury prevention at the company's Vaughan depot on July 5. The company distributed injury prevention information commissioned from Parachute to all its staff across Canada.